None of us can be certain about what's going to happen come September and what the new school year is going to look like, the good news is that kids are super resilient and can adapt to new situations and routines usually far better than we can as adults! Today I'm going to show you how to make your own printables (and matching stickers!) so that, even if stuff doesn't get back to normal in time for the new school term, you can make your home learning a bit more personalised to you and as fun as possible.
I'm going to be making some simple 'First day of school' type activity sheets but you can use this tutorial to make literally any printable you can imagine, you don't have to worry if you don't feel like you're creative enough to come up with images and styling for your projects – you can get all the graphics (and fonts) you could possibly need from Design Bundles
How To Make Your Own Printables
I like to make all my printables in Canva as it's the tool/site I'm most comfortable with and I honestly think it's one of the best design products available – they have a free option and a paid version (the free version does everything you need it to for this tutorial 👍)
Choose your theme and design elements
I decided to make Back To School Printables so I went to Design Bundles and searched for 'Back to School Clipart' to see if anything caught my eye – I found this lovely line drawing image bundle, Back to School Classroom Clip Art, that was perfect for what I needed (I wanted the printables to be black and white so that they were a colouring activity too). There are all kinds of files available on Design Bundles including some lovely Back to School SVGs that would be great for personalising 'first day of school' t-shirts.
Purchase and download your design elements, I like to drag mine on to my desktop so that they are easy to find when I want to upload them.

Login or Create an account on Canva
Visit the Canva website and log in if you have an existing account or create a FREE account.
Create your Printable
Search for Flyer (Landscape) in the search bar at the top of the page and then select the 'blank' option.
On the left-hand toolbar you will see the 'Uploads' option. Click there and upload your design components.
Now for the fun part! There is no right or wrong way to design printable but I'll be showing you the way that I go about structuring mine.
I like to add a border first, my 'headline text' (click the text option in the sidebar, select add heading and type into the box that appears. You can then change the font and manipulate the sizing to suit) then add in some of my design elements, in this case, I added the crayon and the apple by just clicking on them in the uploads area and they appear directly on the page for me.
I'll be using this as my template for all the sheets I design so I used the 'copy page' button at the top right of the canvas to make a few copies of it so that I don't have to repeat that step for each page, I can just go in and edit the wording in the heading.
I place the rest of my clip art designs before I do the main body of text as it makes it easier to see the size and shape of the space I have to work with, you can always adjust the size of your clip art afterwards to make more space if needed. Canva makes placing your images really easy as it gives you pink guidelines to show you what's sitting central and in line with other elements.
To add my main bit of text I use the text option from the sidebar, select Add Heading again and I type out what I want to add (yes it looks messy and all over the place but it's fine, don't panic). When you click the font menu at the top of the workspace it opens a menu where you can search for font names OR styles of fonts which is really handy. I typed in 'Kids' and picked a fun font from the styles it suggested.
Exporting your printable design
You will want to export your finished printable design as a PDF for print.
To do this go to the top right corner of the screen and you'll find the download arrow, click that and select PDF Print, then click the blue Download button and the print will be saved to your computer for you to do what you wish with it.
What to do with your finished Printables
Well, I guess the obvious answer is to print it and use it! Why not share some of your printables with the other parents in your kids class or in any parenting groups you might be in on Facebook.
Did you know that you can also sell printables? A printable doesn't have to just be a worksheet for school, it can be – a pretty quote to go in a frame, a packing checklist, family emergency contact form, meal planner…the possibilities are truly endless and what makes it even better is that printable design can become a fantastic passive income source.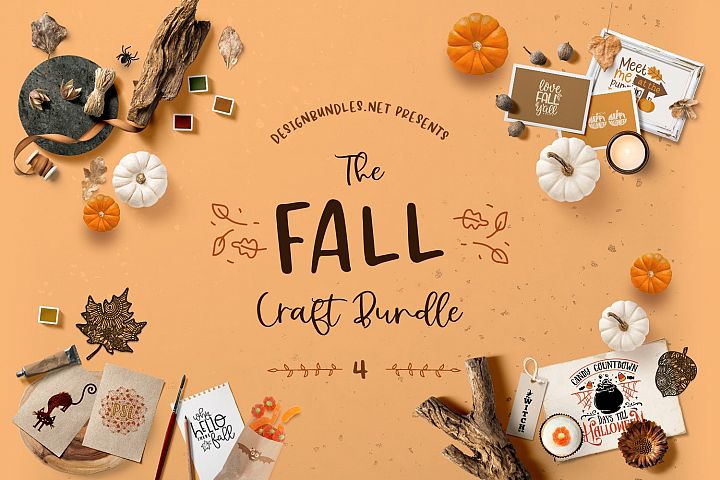 If you think that selling Printables might be something you'd like to give a go then check out the files you get in The Fall Craft Bundle 4, you're getting over £242.55 worth of products for just £18.31 – it includes all kinds of image files that you could turn into fun activity pages or quotes and fonts that you could turn into seasonal decor.
BONUS Tutorial – How to make stickers!
Materials
Create a new project in Canva
Open Canva and create a new project (I went with A4 Flyer again but in Portrait this time) I've reused my theming from the printables with the border, header banner and crayons and apples – No real reason to this other than I just like how it all ties in nicely together!
Add in your images
This is as simple as going to the uploads tab on the left-hand side and clicking each item you want to add. Resize them and arrange them to fit on the page how you'd like.
Download as a PNG
This is an important step, we need to download it as a PNG file and not a PDF like we did with the printables. Follow the same process of going to the download button in the top right of the canvas and change the file type to PNG and then click download.
Upload that PNG to Design Space
Open up Design Space and start a new project. Go to the upload option on the sidebar and upload your PNG file, select moderately complex when it asks to select image type and then use the 'select and erase' tool to remove the background from the image. Click continue and save it as a 'Print Then Cut' image. Insert that image into your new project.
Resizing to fit the sticker paper
When you add your image into your project you might notice that a yellow warning sign appears in your layers box. This is because the image is currently too big to fit on an A4 piece of sticker paper and needs to be reduced in size to no bigger than 17.1cm x 23.5cm, you can easily do this by highlighting you image nd using the resize arrows on the bottom right of the image, once it is the right size the yellow triangle will disappear and the green 'Make It' button will become active.
Printing your stickers
When you click on the 'Make It' button you will go to the prepare mats screen. This shows you how your images will line up on your sticker paper, there will be a black box around the outside, this is the guide marks that the Cricut machine uses to line itself up. When you click continue you will be sent to the numbered prompts, the first step is to print your images – click 'send to printer' and you will see a print setup screen, make sure your home printer is selected in the drop-down and hit print.
Cutting your stickers
Once your sheet is printed you will be asked to set your base material. I find it cuts best if you select the Washi Sheet setting. Then it's just a case of following the prompts on your machine. It will ask you to load the mat and press the cut button, the machine will then scan the page for its alignment marks and cut around your stickers.
FREE – First Day of School Printables
I ended up making 3 separate 'First Day of School' style printables that I've turned into a PDF if you'd like to download them and print off to use at home. Just click on the below image and it'll take you to the download page 😊

And there we have it, you are now a printables (and stickers) master!
I'd love to see if you give this tutorial a go!
Make sure to tag me in any post you put of the finished results on Facebook or Instagram so I can share them around for you 😉